Intermark wins 2022 Core Value Award For Agility Presented by Sterling Lexicon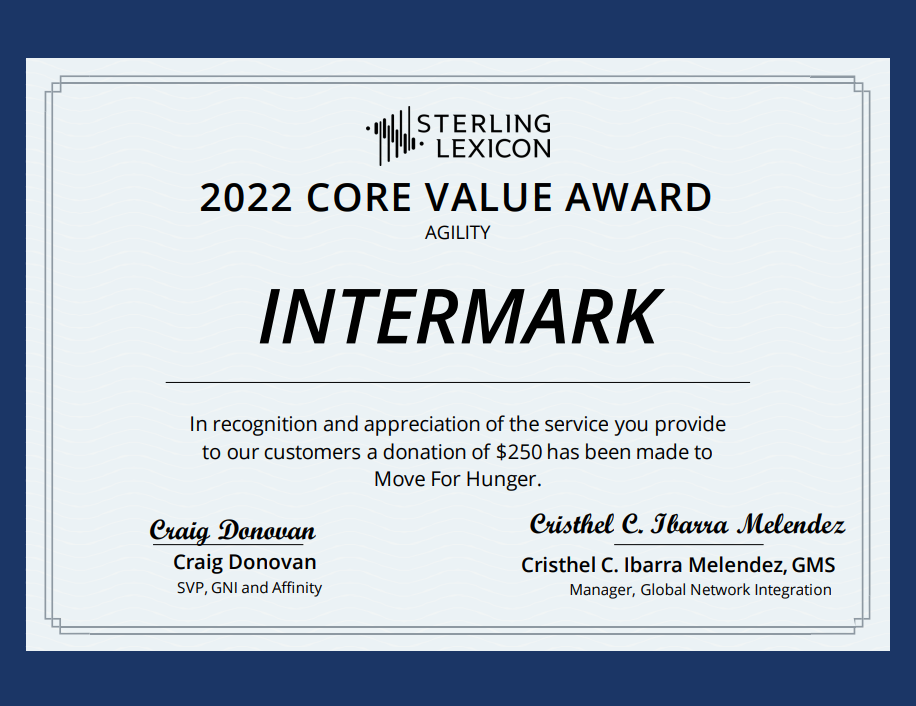 Intermark, a leading provider of immigration, relocation and moving services, was recently honored to receive the 2022 Core Value Award for Agility from Sterling Lexicon in recognition and appreciation of outstanding service and solving unique customer and employee challenges while readily adapting to changing market needs.
"We are grateful for such esteemed recognition from our friends and partners at Sterling Lexicon. Our company values are aligned on the importance of building our trusted collaboration and innovating solutions to make our ever-changing world a better place. We look forward to continued success together with our professional and dedicated team", said Irina Yakimenko, Intermark Managing Partner.
"Your bravery and dedication to support your clients, partners and teams through such difficult times are admirable and worthy of recognition", said Craig Donovan, Senior Vice President of Sterling Lexicon.
Sterling Lexicon is a leading provider of relocation services, which offers companies end-to-end relocation solutions that enhance the mobility experience, delivering employees at destination. It annually brings together global mobility industry professionals to recognize their contribution in the market. Core Value awards are also presented for care, trust, and teamwork.