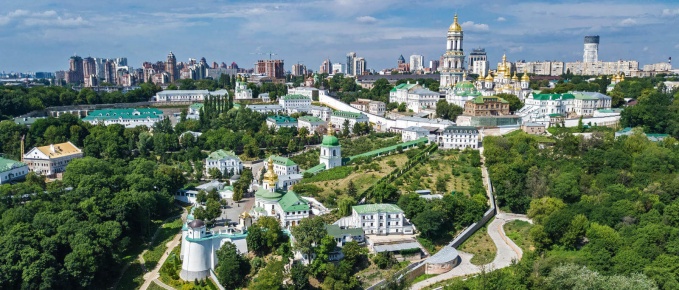 "Laskavo prosymo" or welcome to Kiev!
If you decided relocate to Kiev these facts about culture, traditions and people of Ukraine will be useful for you.
The Republic of Ukraine is the second largest country in Eastern Europe. It borders with Russia to the East, Belarus to the North, Poland, Slovakia and Hungary to the West, Romania and Moldova to the Southwest as well as the Black Sea and the Sea of Azov to the South. Ukraine is a major industrial and agricultural producer. The country is well-endowed in natural resources and has long been Europe's, and later the USSR's breadbasket.
Located in the northern central part of Ukraine on the Dnieper River, Kiev is the capital and the country's largest city, with a population of just under 3 million spread over 839 km. Like the rest of Ukraine, Kiev has a very diverse population with different nationalities represented in the city.
Ethnic Ukrainians make up more than 70% of the total population. The main languages are Ukrainian and Russian, with most people using both as their first languages in everyday life. Many people also speak English, especially in the business district.
Ukrainian people are friendly, hospitable, kindhearted and hardworking individuals. Many of them have made significant contributions to the world in different fields including athletics, art, drama, literature, business, aeronautics and academics.
If you relocate to Kiev go to the Bessarabka market to taste, drink and smell the city.
Decided to move to Kiev?
First of all you must be ready for country's traditions, customs and environment. Intermark createdKiev Relocation Guide for your relocation to Ukraine. On its pages you will find the insider's guide to Kiev housing market, city districts, popular residential areas, international schools, medical care and the practical aspects of living in Ukraine.
Read our Expat Housing Overview H1 | 2021
Fill the relocation form and get a full free quote for your move.
Our Ukrainian consultant will offer you options from Kiev's real estate market, private brokers and developers. This will save you the trouble of contacting agents yourself which can quickly turn into a complicated and arduous task. Make the most of your time and energy! Our consultant will get you acquainted with the city, help you to find the kindergarten or school for your children, advice you best vet for your pet and become your best friend in your new city and will be ready to help 24/7.