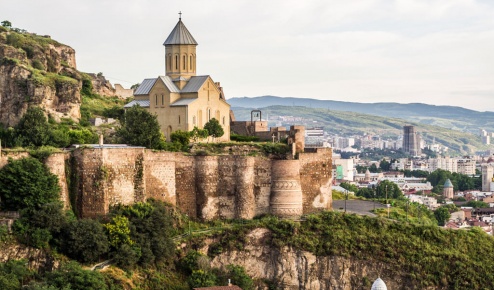 "Gamarjoba" or welcome to Tbilisi!
If you decided relocate to Tbilisi these facts about culture, traditions and people of Georgia will be useful for you.
Tbilisi is a city of contrasts: a meeting point between eastern and western civilizations for centuries, it remains one today. Built along the riverbank of the Kura and surrounded by hills, Tbilisi has been settled since before the 4th century, but boasts a skyscape that includes twenty - first century architecture. Tbilisi can be international, cosmopolitan and sophisticated, yet it is essentially and distinctly Georgian and retains a close focus on local tradition and culture. It can feel as cozy as a small town, and just as inviting and adventurous as a city.
Georgians are among the most hospitable people on Earth, with strong traditions of chivalry and codes of personal honor. Friendship is the greatest virtue. The Georgians are proud, passionate and fiercely individualistic, yet deeply connected with each other through a shared sense of belonging to the greater Georgian family. Women are highly esteemed and are treated with great courtesy and respect.
Getting around is convenient by walking, taxi is cheap, and you can reach most parts of the city by Metro. It's a laid-back European city, not as vibrant or busy like Paris but has its own charm. Communication will never be a problem; many can speak and understand English.
If you relocate to Tbilisi remember that local Georgian people are always happy and ready to help.
Decided to move to Tbilisi?
First of all you must be ready for country's traditions, customs and environment. Intermark createdTbilisi Relocation Guide for your relocation to Georgia. On its pages you will find the insider's guide to Tbilisi housing market, city districts, popular residential areas, international schools, medical care and the practical aspects of living in Georgia.
Read our Expat Housing Overview H1 | 2021
Fill the relocation form and get a full free quote for your move.
Our Georgian consultant will offer you options from Tbilisi real estate market, private brokers and developers. This will save you the trouble of contacting agents yourself which can quickly turn into a complicated and arduous task. Make the most of your time and energy! Our consultant will get you acquainted with the city, help you to find the kindergarten or school for your children, advice you best vet for your pet and become your best friend in your new city and will be ready to help 24/7.