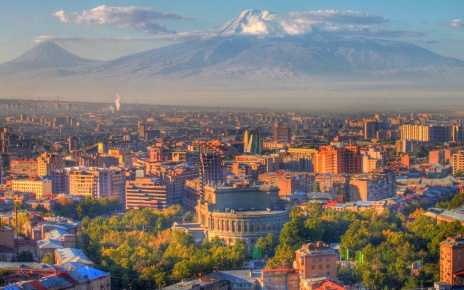 "Bari Galust" or welcome to Yerevan!
If you decided relocate to Yerevan these facts about culture, traditions and people of Armenia will be useful for you.
Armenia is a country with a serious historical legacy, and its capital Yerevan has been inhabited since at least the 8th century BC. Christianity arrived in AD 301 and Armenia proudly calls itself the world's oldest Christian nation. Religion still tends to play a large part in visitor itineraries - from the centuries-old monasteries to the historic bibles at the wonderful Museum of Ancient Manuscripts - but Armenia is changing. Since the break-up of the Soviet Union, the country has re-embraced its traditions while moving on. Much of this progress is focused on Yerevan. Overlooked on clear days by Mount Ararat across the Turkish border, Yerevan is the centre of Armenia's cultural activity and progressive thought, with a lively modern arts scene and plenty of large-scale redevelopment.
Although it is one of the world's oldest cities, its architecture is mainly a legacy of the Soviet era and not always photogenic, but does provide a sense of grandeur, whilst the central core possesses some lovely 19th-century buildings. It may not immediately impress the eye, but Yerevan certainly grows on you as you peel away its layers and begin to understand its expressive, passionate people. Engaging, friendly and very hospitable, Armenians, like their Georgian neighbors, have a reputation for enjoying life.
Whether at home or abroad (and the Armenian diaspora is twice the number of residents of the country) Armenians stand out in a crowd for their unique 'Armenian attitude, which is preserved as part of their culture. You will find Armenians live up to their reputation for being hot-blooded, lively, friendly and generous.
If you relocate to Yerevan remember that Yerevan today is a relaxed and friendly capital, with European cafes and a lively nightlife.
Decided to move to Yerevan?
First of all you must be ready for country's traditions, customs and environment. Intermark createdYerevanRelocation Guide for your relocation to Armenia. On its pages you will find the insider's guide to Yerevan housing market, city districts, popular residential areas, international schools, medical care and the practical aspects of living in Yerevan.
Fill the relocation form and get a full free quote for your move.
Our Armenian consultant will offer you options from Yerevan real estate market, private brokers and developers. This will save you the trouble of contacting agents yourself which can quickly turn into a complicated and arduous task. Make the most of your time and energy! Our consultant will get you acquainted with the city, help you to find the kindergarten or school for your children, advice you best vet for your pet and become your best friend in your new city and will be ready to help 24/7.
Intermark has more than 25 years' experience of relocationg families to Russia and former CIS countries and offers comprehensive services that allow foreign employees easily adapt to new environment.