RUSSIA PUTS 8 MORE COUNTRIES ON "GREEN LIST" FOR ENTRY
We would like to inform you that in accordance with the Government decree no 2770-r dated 02.10.2021 (link in Russian) restrictions on entry into Russia and issuing of migration permits have been lifted for citizens of Denmark, Peru, New Zealand, South Africa and Djibouti, as well as for persons permanently residing in these countries.
As we have reported earlier, the regular flights with these countries are resumed effective October 5.
In addition, the "green list" has been supplemented with Andorra (has no airports of its own), Kuwait, and Colombia (renewal of regular flights not yet announced).
We would like to remind you that entry into the Russian Federation will be allowed for citizens and permanent residents of the above countries in case of entering via flight from any country that is included in the green list.
THE GREEN LIST AS OF OCTOBER 8, 2021:
Countries included in the list in the Appendix 1 to the Government decree No. 635-r dated March 16, 2020 (the restrictions on entry and migration permits obtaining are lifted):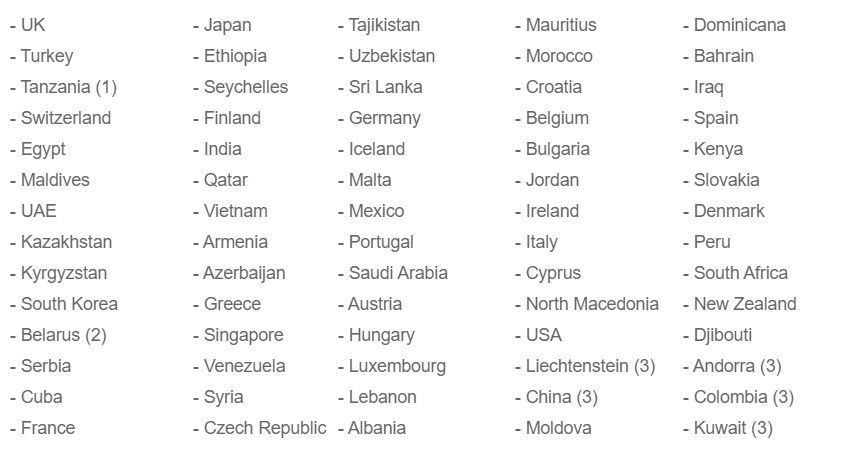 1 Air traffic suspended until November 1, 2021
2 Included in the separate clause of the decree 635-r (cl. 2.10)
3 There was no official confirmation on re-establishing regular air traffic